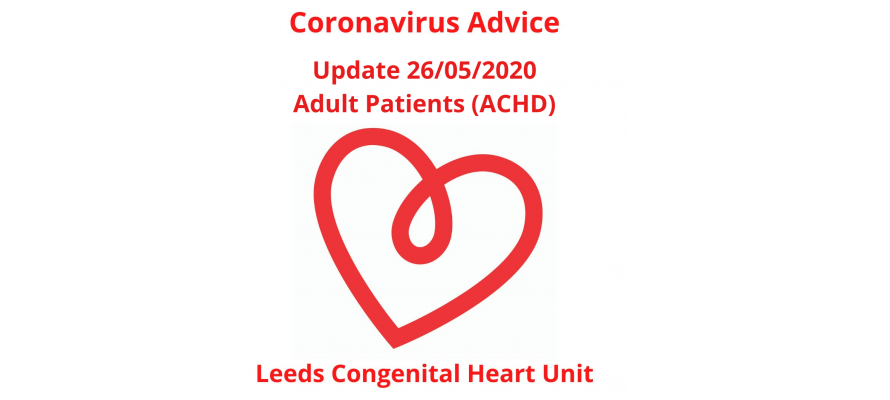 Coronavirus Advice - Adult Patient Advice (ACHD)
Outpatient Clinics
We are in the process of planning some clinics in Leeds, Hull & Sheffield, as well as continuing with telephone appointments over the next few months. These clinics will be for a smaller number of patients, to allow us to continue to follow the Government advice and maintain social distancing and reduce the time that you are at the hospital.
We are reviewing all patient records before deciding whether you need a face to face or telephone appointment. If you receive a letter or phone call to attend an appointment, then please attend on your own, if you can, to reduce the number of people in the clinic.
Returning to work
If you are having conversations with your employer about returning to work (if you are unable to work from home) please adhere to the general government advice:
Stay 2 metres (6ft) away from other people
Wash your hands as soon as you get home
Avoid public transport if possible
If you have one of the heart conditions below and are likely to be at increased risk of becoming seriously unwell from the virus please continue to "shield" and stay at home.
1.Fontan or single ventricle circulation
2.Have cyanosis (low blood oxygen levels)
3.Had a Mustard or Senning operation with severely impaired systemic ventricular function
4.Have heart failure / take regular medicines to improve heart function
5.Pulmonary hypertension or Eisenmenger syndrome
6.Di George syndrome if the immune system is affected
7.Pregnant and have congenital heart disease and have been advised by letter to shield
If you require more advice or support please contact the Specialist Nurses (0113 392 8154, leedsth-tr.achdnurse@nhs.net)