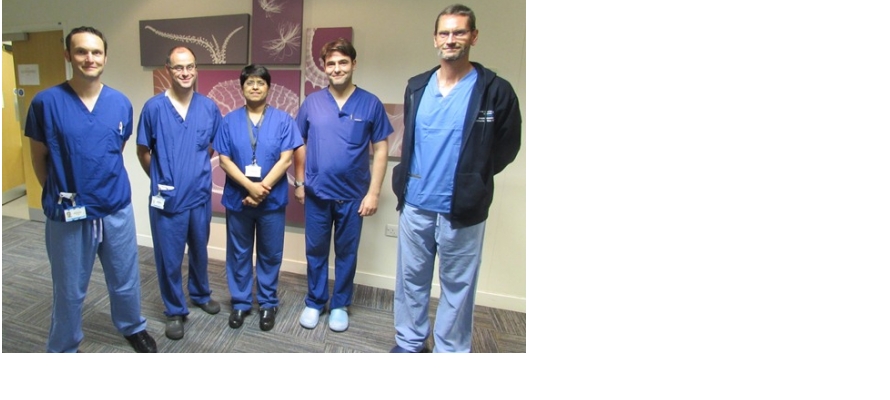 Notable Accolade for Leeds Teaching Hospitals Trust
From left to right – Ian Medlicott, Charge nurse, Mr David Russell, Vascular surgeon, Dr Sapna Puppala, Interventional radiologist, Mr Stefano Congiu, Paediatric cardiac surgeon and Dr Cornelius Van Wyke, Consultant anaesthetist.
Well done to the multi-disciplinary team led by Dr Sapna Puppala, who have undertaken a minimally invasive procedure to treat a life-threatening aortic injury on a seven-year-old boy. He is the youngest person in the world to have benefited from such treatment, and this is a notable accolade for Leeds Teaching Hospitals Trust
An emergency multidisciplinary meeting was held involving vascular interventional radiology, paediatric cardiothoracic surgery, vascular surgery and paediatric interventional cardiology, in addition to a visiting expert from London. It was decided to treat the boy by a minimally invasive endovascular technique using a covered stent.
The operation went well and the boy recently left the hospital to continue his recovery at home. Well done to everyone involved in this great outcome.
Multidisciplinary Team Working At Leeds Teaching Hospitals Trust