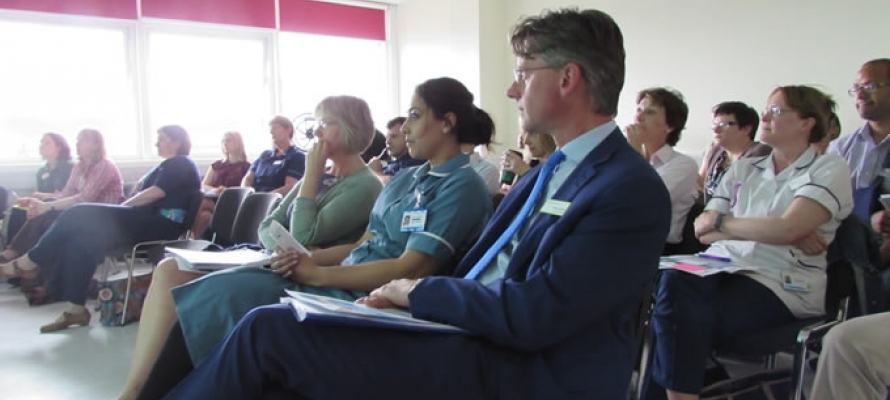 Best Practice and Quality Event
On July 17th nurses, managers, allied health professionals and doctors from across the Children's Hospital came together to celebrate and discover the wide range of innovation, quality improvement and best practice that is going on around us.
The meeting was described as "speed dating" for quality- with each speciality highlighting the bet of their service in just 10 minutes. There was a strong feeling of "I never knew there was so much going on" and "It was great to hear what other teams are doing". We have decided to make this an annual event, hopefully in spring, with the Children's Hospital conference in the Autumn. So those who didn't get a chance to present this year, have 12 months to innovate and improve in cycles and then tell us all about what you have achieved this time next year. It is impossible to capture all the good practice in a few paragraphs, but here are the highlights of what I learned:
•Leeds Children's Hospital is one of very few centres in the country with all major services from fetal medicine to adult care co-located in one trust. With greater concentration of specialist services in the future this will be an important asset.
•A registrar-led QI projected resulted in a halving of blood tests performed by doctors overnight and a 10 times increase in phlebotomy delivered tests, leading to more timely results. The hope is to further extend the phlebotomy service across the children's hospital.
•By teaching and empowering their patients to do shared care haemodialysis, the renal team found patients good regain an element of control over their lives.
•A clear pathway and guideline has improved the quality of care of spina bifida patients across the Yorkshire region and clever surgeons can grow new bladders in a test-tube
•The children's anaesthetic team are able to support complex craniofacial surgery with excellent results and we should be a specialized centre for the north-east. The surgery looks dramatic but the results are amazing.
•Streamlining the MRI general anaesthetic pathway means an extra 50 children are treated each year, daycare beds are saved and income can be brought in from adjacent trusts.
•The children's diabetes team offers great care following the Leeds' Way principles of empowered, patient centred and collaborative care with great outcomes for over 400 children with diabetes.
•We have the only dedicated teenage and young adult brain tumour service in the UK, with great support from local charities. The oncologists have increased the percentage of children with febrile neutropenia who received antibiotics within an hour of admission from 35% to 85% and Bob Philips can squeeze a lot of words into 37 seconds!
•Our children's physios deliver more than 22,000 treatment episode a year but still had time to save money and facilitate earlier discharge by streamlining paperwork, re-organizing the plaster shoe service and moving to e-mail referrals.
•The Neonatal Sim team will simulate anything from a gastroschisis (sausages and jelly) to a set of conjoined twins, but have identified some significant latent risks which have been able to be modified.
•Our children's pain team have helped children change their pain from a monster that ruined their lives to a caged beast that they can keep on top of.
•The STICH (surgery to intensive care) handover sheet has improved patient safety and flows between cardiac theatres and PICU
•Despite being extremely busy the Children's assessment unit (CAT) has been able to demonstrate excellent patient feedback from over 800 families.
•Pandas don't just eat shoots and leaves, sometimes they also help our paediatric patients have a safer and more efficient discharge and free up bed spaces earlier in the day.
•Our children's cardiac team performed over 800 cardiac operations and procedures in 2014, with excellent outcomes and a strong data-quality index. We are the fourth largest centre in the UK by activity.
•Our children's dieticians have done innovative research on the osmolality of concentrated feeds, leading to safer care of vulnerable neonates and children.
•Our children's liver team have now performed more than 234 liver transplants, have streamlined their referral pathways for conjugated jaundice and cover a VAST geographical area, almost half the area of the UK.
Thanks to all the organisers of the day for pulling together a great event that made us all feel that little bit more like we really do work in a Children's Hospital, and that together we deliver great quality care for our patients and can learn a lot from colleagues in different areas of the hospital.
Dr Lawrence Miall – Quality Lead
"I never knew there was so much going on"