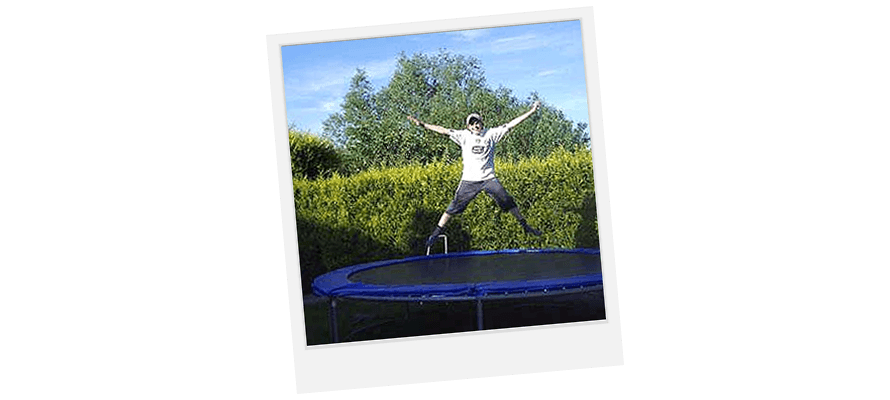 My Story — Nathan
I'll never forget that hot, sunny day when, as I neared my 13th birthday, we went for my yearly routine check-up. Up until then I'd never given these appointments much thought – "see you in a year" was what they had always said! However, this time it was different –
I had a condition which was quite unusual – a double inlet left ventricle and pulmonary stenosis – I had never had surgery before! I'd always been okay – occasionally a bit blue and sometimes out of breath, but I'd never known any different so it didn't bother me. Then all of a sudden I was told that "we'd better get on and proceed with surgery Nathan." I'll never forget those words!
I found it really hard to cope and think my mum and dad did too (although they did not show it). I couldn't sleep or eat and I didn't think I could cope. All I could think was "why me?!"
I went with the whole family – my mum, dad, brother and sister – to see Ward 10, where were met the liaison nurse for teenagers. Then I then went to see the child psychologist. She helped a lot – we did relaxation and just talked, not always about my heart.
I had to wait a few months to be admitted for a catheter. I was quite worried, but looking back, a catheter is 'easy peasy'. Unfortunately they couldn't get all the tests they needed to do, so I had to have another!
Eventually, after my second catheter, they decided to do the surgery. Again things did not go to plan as my pressures were too high to proceed with the Fontan operation that they wanted to do. I was then hit with the bombshell that I would require two operations – firstly, the Glenn Shunt, which would hopefully reduce my pressures as part of the Fontan. Secondly, after a few years they would go ahead with the complete Fontan. I was put on the waiting list.
In the July, I got an invitation to go to an outward-bound centre in the Lake District, where I could meet other teenagers with heart conditions. My first thoughts were "no" because I'd be on my own and wouldn't know anyone. At one of my appointments with the psychologist, she explained that she had been on one of these activity weekends and that mum and dad could pick me up straight away if I was not happy. I decided to give it a go and I'm so glad I did. Out of the eight teenagers who attended, five had had heart transplants – my open heart surgery suddenly didn't seem so bad! Just meeting these kids made me realise that life is for living, so let's get on with it!
I kept in touch with most of the teenagers from the outward bound weekend, including one lad who lived quite locally and came to stay with us. The months passed quite quickly.
nathan trampolining
It was a cold January day – I slowly walked home from the bus stop. "Why was dad home? As I took off my coat, mum said that she'd received a telephone call from the hospital and they would like me to check in on Monday for surgery at the beginning of February. (I had already had an operation cancelled in December! Unfortunately this does happen!). I wasn't sure how to feel – I certainly wasn't as shocked or as upset as I did on that occasion a couple of summers ago. Even though I didn't want to do it, I knew that this was the only way forward.
I kept busy over the weekend, downloading lots of songs on my ipod (which became my saviour, as I'll explain later) loads of my mates visited. My family and a few of my mates all went out for a meal on the Sunday, although I felt apprehensive – I did feel in control.
Mum, dad and I arrived on Ward 10 at about 3pm – "this is it", I thought, "no going back now." I had met the staff nurse who was looking after me before and straight away I felt more relaxed. Just seeing a familiar face made me feel better.
The tests then started: ECGs, a blood test and an x-ray. Lots of doctors and nurses came to see me and even some medical students had me lying on a bed – I didn't mind! The anaesthetist came to explain everything and I thought it was good that the doctors talked to me and not just to mum and dad.
The surgeon and his registrar came for a chat to tell me everything about what was going to happen. I even had something to help me sleep on that Tuesday night.
When I woke up on Wednesday morning, mum and dad were sat there (in the dark). They came up to be with me when I awoke. My head felt jumbled – didn't know how to feel, I was nervous, scared – you name it. The nurse gave me my premed and that was ace. Don't remember much more after that – mum and dad said that I was well out of it!
I don't remember much about intensive care. All I wanted was a drink and would they give me one? No! "Please can I have a drink?" I begged, to no avail. I was in intensive care for only 24 hours, all appeared to be going well and I was transferred back to Ward 10.
I had my own room, near the nurse's station. It was nice to see my grandparents and my uncle when I got to the ward. I can't honestly say I remember much of the next few days as I was on morphine and I controlled the pain relief myself (I just pressed a button if I needed more).
Things did not go to plan – my saturation levels were too low, I was unable to walk and I was having lots of medication, x-rays, scans and visits from doctors. It was decided that I would need the second operation in the next few days because my heart was not coping with the first stage and I needed to proceed with the complete Fontan ahead of schedule.
I had to have an investigation first to make sure the pressure in my pulmonary artery had dropped. I was asked if they could do this procedure under local rather than general anasethic (if it was general I would have to go back into intensive care) I'll do it I thought! I was told everything, every step of the way. Everyone was so nice and the consultant told me that if at any stage I could not cope they would put me too sleep, but I did it without needing that.
It was decided that evening that everything was fine to proceed with the Fontan. The hole in my bottom two chambers needed enlarging too but I thought "they can do what they want, I'll be asleep anyway."
On the Saturday I had my pre-med and my cousin came to be with me (he had a heart operation when he was a few months old – he's 18 now). We played on the playstation waiting for the trolley; I could hardly see the screen. 'I've got to laugh (looking back) as I made the porter wait until we had finished our last FIFA match – "no problem," he said!
It was strange doing the journey on the trolley again, so soon. I trusted the anaesthetist and I saw the surgeon as my best friend.
"I want a drink!" I shouted again. "Oh no," the intensive care staff no doubt thought, "not him again!" "I need a drink!" I repeated. It must have been the morphine, but apparently I had all of intensive care in stitches, with my witty comments and demands for drinks! All wards in the LGI were scouted for ice pops – even the senior nurse went to Morrisons to find some! (quite hard at 3pm on a Sunday afternoon in February!)
You're usually expected to be in intensive care for quite a few days. Not me! I was back on the ward within 36 hours. Everyone was saying how pink I looked. I slept quite a lot again, but found it quite hard when I had to have lots of blood tests (I found them harder than the operation). My iPod became my savour – it was on full blast for every test and I became known for bringing my "friend" (iPod) with me. I was told I would be on Warfrin (a blood thinner) for life. I took this hard, but I shouldn't have – it's actually not much of a problem, involving just a few tablets a day, and I have my own machine to do my blood test.
i-pod
The nurses and doctors were all fantastic and I had so much support from all my family and friends. My cousin and best mate both stayed (as it was the school holidays), my mum and dad changed rooms so they had a family room and my brother stayed too.
Soon I was up and walking about, drains still attached (on my trolley) – no oxygen needed now! However, the waste from the drains was looking thick –"oh no, another test" I thought. I had chyle in my drains, which is something that does happen on occasions. Just to finish everything off I was put on a very, very low fat diet (5grams of fat a day for 6 weeks) – again, it felt like the end of the world, but was really nothing to get worked up about.
It snowed a lot while I was in hospital. I realised I must have been getting better when I was moved to the teenage room! The nurse came in and said "you've got a visitor Nathan." Then in walked Leeds United player, Clark Carlisle! I thought "wow, so that's why mum was trying to get me to do something with my hair!" Clark was a great chap – I had lots of photographs taken with him and he brought me a training top. If having a heart operation means meeting Leeds players – it's worth it!
Looking back on my experience, I did feel that everything that could, did go wrong. However, on a positive note I have now had all my operations and can run, jump, play football without getting tired. It took some time, but I got there in the end – thanks to a fantastic surgeon, dedicated staff on Ward 10 and my parents, grandparents, and friends. Thanks everyone! I feel great.
Thanks for those, email us your story now!!