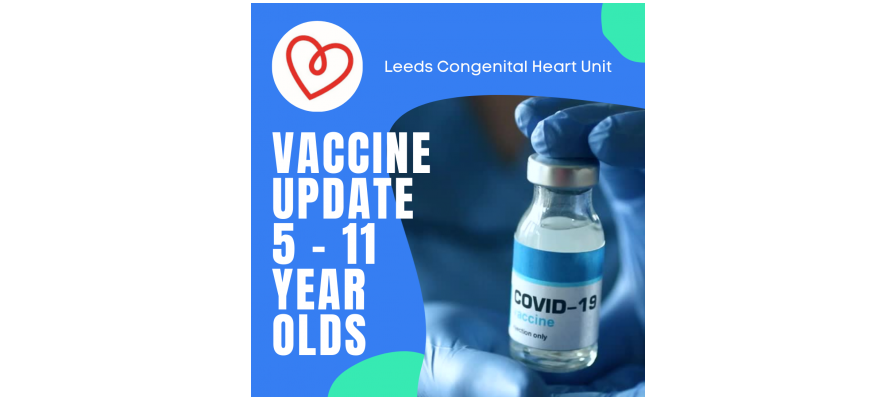 Covid 19 Vaccine for 5-11 Year Olds
The independent expert advisory committee (JCVI) have recommended that 5-11 year olds with some underlying heart conditions * can now receive the COVID-19 vaccination. They have recommended this age group, should be offered two 10 micrograms doses of the Pfizer-BioNTech COVID-19 vaccine (Comirnaty®) with an interval of 8 weeks between the first and second doses. The minimum interval between any vaccine dose and recent COVID-19 infection should be 4 weeks. We are therefore happy for our paediatric patients 5-11 years with the following heart conditions to receive the vaccine. Please contact your GP to arrange and contact the Cardiac Nurse Specialists if you require more information.
.*Single ventricle patients or those palliated with a Fontan (Total Cavo-Pulmonary Connection) circulation – Those with chronic cyanosis (oxygen saturations <85% persistently) – Patients with cardiomyopathy currently on medication – Patients with congenital heart disease on medication to improve heart function – Patients with pulmonary hypertension (high blood pressure in the lungs) requiring medication – Patients who have undergone heart transplantation – Patients with congenital heart disease and significant co-existing conditions e.g. chronic kidney disease or chronic lung disease.
Covid Vaccine 5 -11 Year Olds