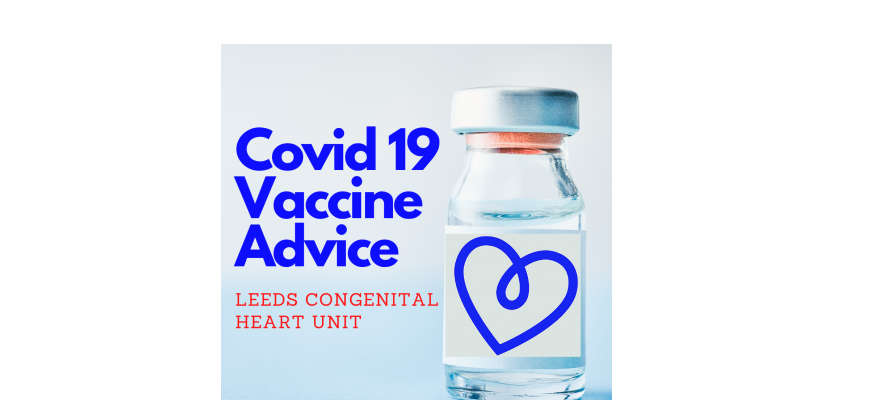 Covid 19 Vaccine advice
We have had a number of queries about the Covid 19 vaccines from parents and young people this week so thought we would post an update:
Q: I am aged 16 yrs old and want to know am I eligible for the vaccine?
A: The Pfizer vaccine is the only vaccine at the moment that is licensed for 16-18 year olds.
Here is the link:
https://www.gov.uk/government/publications/regulatory-approval-of-pfizer-biontech-vaccine-for-covid-19/information-for-healthcare-professionals-on-pfizerbiontech-covid-19-vaccine.
Q: As an adult with congenital heart disease when will I be offered the vaccine?
A: This depends on your condition. Most of our adult patients fit in Priority group 6, and your GP will be in touch with you when they are contacting people in this category. The vaccination programme is currently addressing those people in Priority group 4. We would encourage you to have the vaccine if it is offered to you.
https://www.gov.uk/government/publications/priority-groups-for-coronavirus-covid-19-vaccination-advice-from-the-jcvi-30-december-2020
We would hope that all Clinically Extremely Vulnerable (shielding) adult patients will have been offered a Covid 19 vaccine by now. If you are in the shielding category (we or the government will have written to you if you are) and would like to be vaccinated, but haven't yet been offered one, you can arrange an appointment at https://www.nhs.uk/conditions/coronavirus-covid-19/coronavirus-vaccination/book-coronavirus-vaccination/.
Q: My child is under 16, will they be offered a vaccine.
A: There are no current plans for children in this age group to be offered vaccination. We will update you if this information changes.
if you have looked at all the advice and links and have further questions, please email the adult specialist nurses on leedsth-tr.achdnurse@nhs.net
Or the children's specialist nurses on ccns.lgi@nhs.net