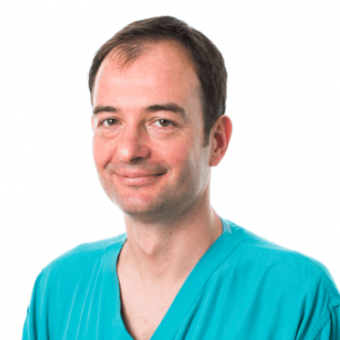 Dr John D.R Thomson
Consultant Paediatric Cardiologist
Area of expertise
Paediatric & Adult Congenital Cardiology
Interventional Cardiology in congenital heart disease
Biography
Trained in University of Nottingham, qualified 1993
General medical training in the UK & Australia
Paediatric & Congenital cardiology training in Leeds
MD thesis into brain damage & treatment of congenital heart disease
Worked as a Consultant in Leeds & Guys Hospital, London
Specialist interests within your profession
Interventional cardiology – consistently one of the highest volume operators in the UK
Mangiapane H, Thomson JDR, Salter A, Brown S, White DA. The inhibition of the oxidation of LDL by catechin, a naturally occuring flavonoid. Biochemical Pharmacology. 1992;43(3):445-50
Thomson JDR, Forster J, Gibbs JL. Cyanosis due to diastolic right to left shunting across a ventricular septal defect in a patient with tetralogy of Fallot and pulmonary atresia. Cardiol Young. 1999;9:506-8
Thomson JDR, Allen J, Gibbs JL. Left sided valvar regurgitation in children and adolescents. Heart 2000;83(2):185-7
Thomson JDR, Gibbs JL, Van Doorn C. Cardiac catheter guided closure of apical ventricular septal defect. Ann Thorac Surg 2000;70:1402-4
Allen J, Thomson JDR, Lewis I, Gibbs JL. Mitral regurgitation T wave changes and development of impaired left ventricular function after treatment with anthracyclines. Heart 2001;85(4):430-2
Henwood J, Pickard C, Leek JP, Bennett CP, Crow YJ, Thomson JDR, Watterson KG, Parsons JM, Roberts E, Leach NJ. A region of homozygosity within 22q11.2 associated with congenital heart disease: Recessive Digeorge syndrome?. J Med Genet 2001;38:533-536
Thomson JDR, Gibbs JL. Transcatheter versus surgical closure of atrial septal defects: a prospective comparison of results and cost. Heart 2002;87: 466-469
Thomson JDR, Barth JH, Mackintosh AF. Troponin for acute coronary syndromes: have NICE got it right? Ann Clin Biochem 2002;39(3):194-196
Thomson JDR, Uzun O. The aortic root post Bentalls procedure. Heart 1999;82(2):133
Uzun O, Thomson JDR. False aneurysm after balloon dilation of multiple pulmonary stenoses. Heart 1999;81(6):660
Thomson JDR, Veldtman GR, Uzun O. Intimal aneurysm after pigtail angiogram. Cardiol in the Young 2000;10(1):73-4
Aburawi EH, Thomson JDR, Van Doorn C. Late anastomotic stenosis after correction of anomalous pulmonary venous connection. Cardiol Young 2001;11:330-331
Thomson JDR, Hobbins S, Gibbs JL. Cardiac skills in neonatology. Arch Dis Child (F+N ed) 2002;86:F55-57
Thomson JDR. Treatment of childhood aortic stenosis. Editorial, Heart. 2004 Jan;90(1):5-6.
ter Heide H, Thomson JDR, Gill A Wharton, John L Gibbs. Poor sensitivity of routine fetal anomaly ultrasound screening for antenatal detection of atrioventricular septal defect. Heart 2004; 90: 916-917
Thomson JDR, Watterson KG, Blackburn ME. Pacing activity, patient and lead survival over 20 years of permanent epicardial pacing in children. Ann Thorac Surg 2004 Apr;77(4):1366-70
Murugan SJ, Thomson J, Parsons JM. Is life long follow up for patients with Kawasaki disease indicated? Arch Dis Child. 2003 Jan;88(1):91.
Thomson JDR, Mulpur A, Guerrero R, Nagy Z, Gibbs JL, Watterson KG. Outcome after extended arch repair for aortic coarctation. Heart. 2006 Jan;92(1):90-4
Willcoxson FE, Thomson JDR, Gibbs JL. Successful treatment of left atrial disk thrombus on an Amplatzer atrial septal defect occluder with Abciximab and heparin. Heart. May 2004;90: e30
Murugan SJ, Thomson JDR, Parsons JM, Dickinson DF, Blackburn MEC, Gibbs JL. New outpatient referrals to a tertiary paediatric cardiology centre: Evidence of increasing workloads and evolving patterns of referral. Cardiol Young. 2005 Feb;15(1):43-6
Aburawi EH, Thomson JDR, Blackburn MEC. Familial idiopathic atrial fibrillation with fetal bradyarrhythmia. Acta Paediatr 2006 Dec;95(12):1700-2
Murugan SJ, Viswanathan SJ, Thomson JDR, Parsons JM, Richards M. Heart surgery in children with haemophilia. Ann Thorac Surg. 2006 Jan;81(1):336-9.
Allen J, Dickinson DF, Ramachandran A, Thomson JDR. Development of a technician led paediatric echocardiographic service. Experience from a UK district general hospital. Cardiol Young. 2005 Jun;15(3):299-301
Spence MS, Thomson JD, Weber N, Qureshi SA. Transient renal failure due to hemolysis following transcatheter closure of a muscular VSD using an Amplatzer muscular VSD occluder. Catheter Cardiovasc Interv. 2006 May;67(5):663-7
Thomson JD. Percutaneous PFO closure, further data but many unanswered questions. Eur Heart J. 2006 Feb;27(3):258-9.
Witte KK, Pepper CB, Cowan JC, Thomson JD, English KM, Blackburn ME. Implantable cardioverter-defibrillator therapy in adult patients with tetralogy of Fallot. Europace. 2008 Aug;10(8):926-30
Witte KK, Pepper CB, Thomson JD, English KM. Implantable cardioverter-defibrillators in tetralogy of fallot. Circulation. 2008 Jul 29;118(5):e99
Bhat D, Upponi A, Rakecha A, Thomson J. Evaluating safety, effectiveness, and user satisfaction of home international normalized ratio monitoring service: experience from a tertiary pediatric cardiology unit in the United Kingdom. Pediatr Cardiol. 2010 Jan;31(1):18-21.
Willcoxson FE, Viswanathan S, Thomson JD, Gibbs JL. Transcatheter closure of the arterial duct without arterial access. Cardiol Young. 2010 Feb;20(1):39-43
Artis NJ, Thomson J, Plein S, Greenwood JP Percutaneous Closure of Postinfarction Ventricular Septal Defect: Cardiac Magnetic Resonance-Guided Case Selection and Postprocedure Evaluation. Can J Cardiol. 2011 27(6):869.e3-5
Gherardi GG, Iball GR, Darby MJ, Thomson JD Cardiac computed tomography and conventional angiography in the diagnosis of congenital cardiac disease in children: recent trends and radiation doses. Cardiol Young. 2011 May 10:1-7
Thomson JD, Qureshi SA. Transcatheter rehabilitation of pulmonary arteries.
Expert Rev Cardiovasc Ther. 2011 Nov;9(11):1459-67
Crean AM, Maredia N, Ballard G, Menezes R, Wharton G, Forster J, Greenwood JP, Thomson JD. 3D Echo systematically underestimates right ventricular volumes compared to cardiovascular magnetic resonance in adult congenital heart disease patients with moderate or severe RV dilatation. J Cardiovasc Magn Reson. 2011 Dec 8;13:78.
Viswanathan S, Arthur R, Evans JA, Truscott J, Thomson JD, Gibbs JL. The early and mid-term fate of the axillary artery following axillary artery cut-down and cardiac catheterization in infants and young children. Cath cardiovasc intervention 2012;80(7):1183-9
Bentham JR, Thomson JD, Gibbs JL Transcatheter Closure of Persistent Ductus Arteriosus in Adults. J Interv Cardiol. 2012 Oct;25(5):501-4
Bentham JR, English K, Hares D, Gibbs J, Thomson JD. Effect of transcatheter closure of baffle leaks following Senning or Mustard atrial redirection surgery on oxygen saturations and polycythaemia. Am J Cardiol 2012 Oct 1;110(7):1046-50
Uddin A, Thomson JD, Plein, S, Greenwood JP. Late dynamic right ventricular outflow tract obstruction after the Ross procedure for bicuspid aortic valve disease. Circulation 2012;125(25):e1043-6
Bentham JR, Qureshi SA, Eicken A, Ballard G, Thomson JD. Early percutaneous valve failure within bioprosthetic tricuspid tissue valve replacements. Catheter Cardiovasc Interv. 2013 Sep 1;82(3):428-35
Bentham J, Ballard G, English K, Thomson J. Effect of Interventional Stent Treatment of Native and Recurrent Coarctation of Aorta on Blood Pressure.. Am J Cardiol 2013 Mar 1;111(5):731-6
Pushparajah K, Sadiq M, Brzezińska-Rajszys G, Thomson J, Rosenthal E, Qureshi SA. Endovascular stenting in transverse aortic arch hypoplasia. Catheter Cardiovasc Interv. 2013;82(4)
Oliver J, Michael HC, English K, Thomson JD, Ballard GC. Unusual causes of late right heart dilatation long after repair of total anomalous pulmonary venous drainage. Circulation 2013 Jan 15;127(2):258-9
Khavandi A, Bentham J, Marlais M, Martin RP, Morgan GJ, Parry AJ, Brooks MJ, Manghat NE, Hamilton MC, Baumbach A, McPherson S, Thomson JD, Turner MS. Transcatheter and endovascular stent graft management of coarctation-related pseudoaneurysms. Heart. 2013 Sep;99(17):1275-81
Thomson JD, Hildick-Smith D, Clift P, Morgan G, Daniels M, Henderson R, Spence MS, Mahadevan VS, Crossland D, Ormerod O. Patent foramen ovale closure with the Gore Septal Occluder (GSO); Initial UK experience. Catheter Cardiovasc Interv. 2014 Feb 15;83(3):467-73
Calvert P, Cockburn J, Wynne, D, Ludman P, Northridge D, Mullen MJ, Malik I, Turner M, Khogali S, Veldtman G, Been M, Butler R, Thomson JD, Byrne J, Maccarthy P, Morrison L, Shapiro L, Bridgwater B, De Giovanni J, Hildick-Smith D. Percutaneous closure of post infarction ventricular septal defect: In hospital outcomes and long-term follow-up of UK experience. Circulation 2014 Pending
Knowles RL, Day T, Wade A, Bull C, Wren C, Dezateux C; On behalf of the UK Collaborative Study of Congenital Heart Defects (UKCSCHD), Adwani S, Bu'lock F, Craig B, Daubeney P, Derrick G, Elliott M, Franklin R, Gibbs J, Knight B, Lim J, Magee A, Martin R, Miller P, Qureshi S, Rosenthal E, Salmon A, Sullivan I, Thakker P, Thomson J, Wilson D, Wong A Patient-reported quality of life outcomes for children with serious congenital heart defects. Arch Dis Child. 2014 Jan 9. doi: 10.1136/archdischild-2013-305130. [Epub ahead of print]
Smith B, Thomson JD, Crossland D, Spence M, Morgan GJ. UK Multicentre experience using the Gore Septal Occluder (GSO) for atrial septal defect closure in children and adults. Cath. Cardiovasc intervention 2013. Pending.
*Chapters: Congenital heart disease in Julian D, Campbell-Cowan, Mclenahan J (Eds), Cardiology, 3rd edition, Elsevier publishing, London, UK
The antenatal diagnosis of tricuspid atresia, part of the interactive teaching guide of the Royal college of Obstetrics and Gynaecologists
Pulmonary valvoplasty in Norell MS et al (Eds), Essential interventional Cardiology, 2nd Edition, Elsevier publishing, Philadelphia, USA
Patent ductus arteriousus in Crawford et al (Eds), Cardiology, 3rd Edition, Elsevier publishing, Philadelphia, USA
Percutaneous treatment of aortic coarctation in Hasse, Schafers, Sievert and Waksman (Eds) Cardiovascular Interventions in Clinical Practice, Wiley-Blackwell, Oxford, UK
Hybrid treatment of congenital heart disease in Satorano (Ed) Intervention in congenital heart disease, Elsevier publishing, Philadelphia, USA
Cardiac catheterization in Moller and Hoffman (Eds) Pediatric cardiovascular medicine 2nd Ed, Blackwell publishing, USA
Editor: Cardiac Catheterization for Congenital Heart Disease: from Fetal Life to Adulthood (Editors: Butera, Chessa, Eicken, Thomson), Springer publishing
Atrial septal defect closure in Cardiac Catheterization for Congenital Heart Disease: from Fetal Life to Adulthood (Editors: Butera, Chessa, Eicken, Thomson), Springer publishing